Sintra or Cascais? Which is better for a holiday or day trip in 2023
Sintra and Cascais are two fascinating towns within the Lisbon region, both of which make fantastic choices for a day trip or as a holiday destination.
Cascais is a delightful beachside town that boasts grand 19th-century villas and a coastline of glorious beaches. Sintra lies within the cooling Serra da Sintra hills, where you can discover ancient castles and impressive palaces, including the magnificent Palácio da Pena. Cascais and Sintra are both amazing in their own right, but the simple answer for 'Sintra or Cascais?' is:
Sintra is the better destination for a day trip, but Cascais is the better location for a holiday.
Sintra has many more varied sights and attractions than Cascais, which makes it the best choice for a day trip. Cascais is a lively resort town with a much wider selection of restaurants, bars and shops, and it tends to be less expensive.
This article will provide a comparison of Sintra and Cascais and help you get the most from these two wonderful towns.
Related articles: Guide to Sintra - Guide to Cascais
Insight: If you are considering a day trip to Sintra and Cascais, never try to combine them in a single day. Both towns need at least one day of sightseeing to fully appreciate, and two days could be easily spent in Sintra.
Highlights of Sintra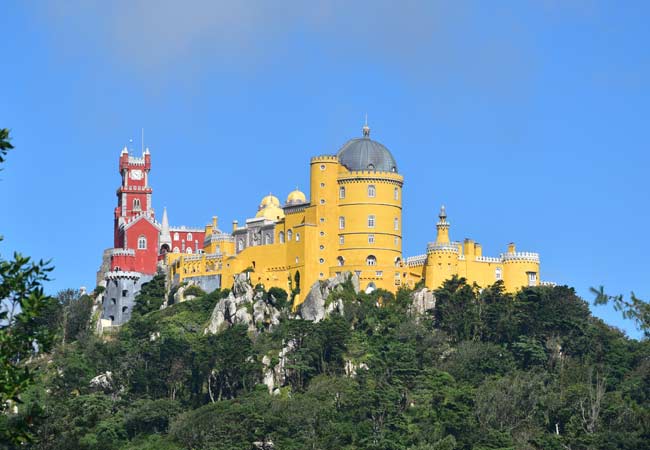 Palacio da Pena - This extravagant and colourful palace, with its whimsical exterior, has had its staterooms restored to how they would have appeared in 1910 during the final weeks of the Portuguese monarchy. The Pena Palace is one of the finest tourist attractions of Portugal, but its fame means it is always crowded.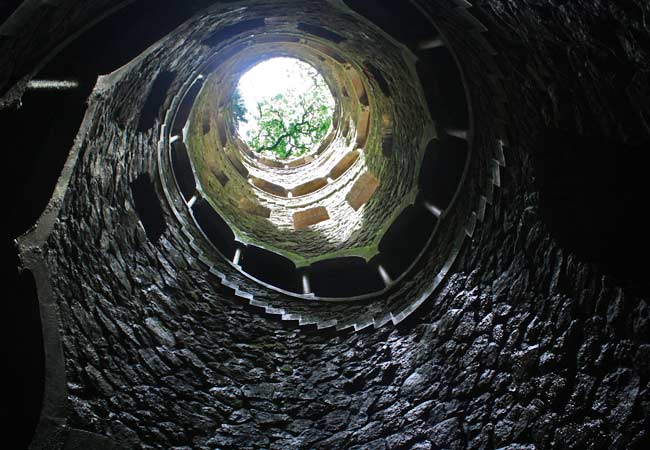 Quinta da Regaleira – A mock-gothic mansion, where the real attraction lies in its mystical-inspired gardens. Found within them are secret cave passages, ornamental fortifications and the Poço Iniciático - a well with a hidden staircase (see image above).
Castelo dos Mouros – A 9th-century castle that spans a rocky outcrop high above Sintra. The castle may have been greatly restored in the 19th century, but it's one of the best castles in the Lisbon region and provides stunning views from its battlements and towers.
Highlights of Cascais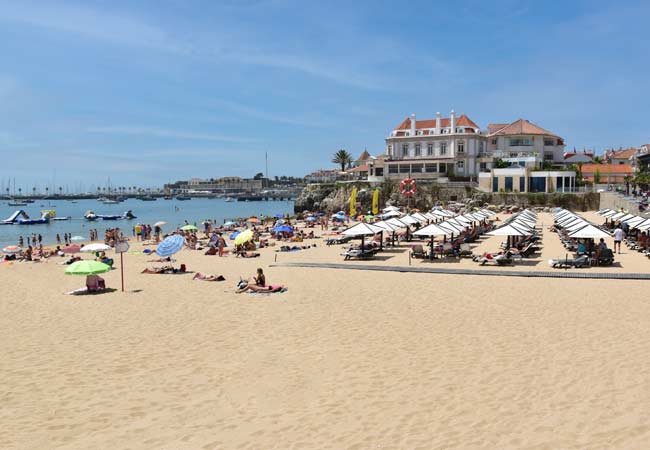 Cascais coastline and beaches - Cascais sits along a beautiful coastline of glorious sandy beaches that have been attracting tourists to the town for over 150 years. There is a scenic beachside promenade (the Paredão de Cascais) if you wish to see them all, or sun loungers and beachside bars if you'd prefer something more relaxing.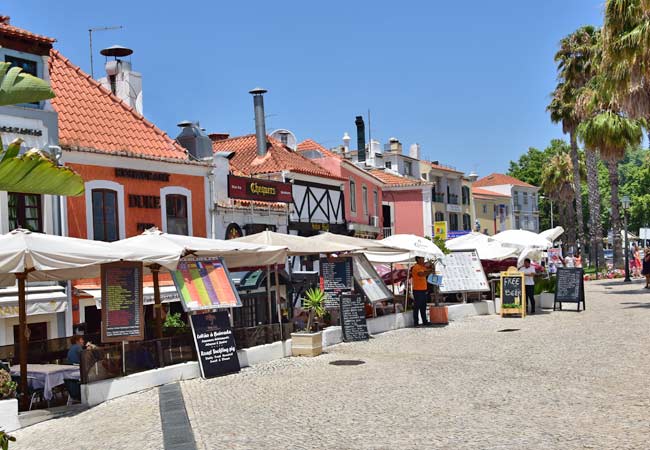 Cascais holiday atmosphere - During the summer, Cascais has a vibrant and lively holiday atmosphere and is one of the best beach towns of Portugal. Cascais welcomes a mix of nationalities and ages, all here to simply enjoy themselves. By day, the beaches are a hive of activity, while at night, the bars and restaurants are packed with everyone wanting to have fun.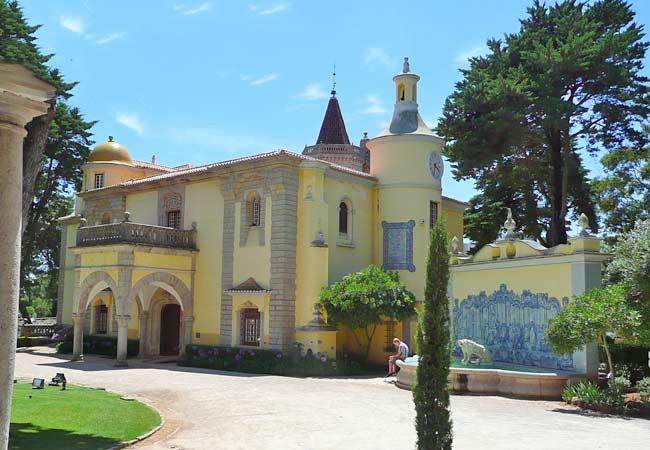 Cascais's grand villas - Cascais is Portugal's original beach resort, ever since King Luís I decreed it to be his summer residence in 1870. The 19th-century Portuguese elite who followed the king constructed grand beachside villas, of which the 'Condes de Castro Guimarães' is the most impressive.
Why is Sintra better for a day trip?
Sintra is the best day trip from Lisbon and is one of the most impressive towns in Portugal. The town contains the Pena Palace, the Castelo dos Mouros, the Palacio Nacional de Sintra and over eight other grand villas that are open to the public. This is in addition to the pretty historic centre and the scenic forest footpaths through the Sintra hills. There is a lot to see and experience in Sintra, making it the best choice for a day trip from Lisbon.
The downside of Sintra is its popularity. During the peak season, there will be long queues for everything, from the bus to the Pena Palace through to waiting for a table in a restaurant at lunch. For your day trip to Sintra, always start as early in the day as possible - this is why so many tourists decide to spend a night here.
Related articles: The best sights of Sintra – A day trip to Sintra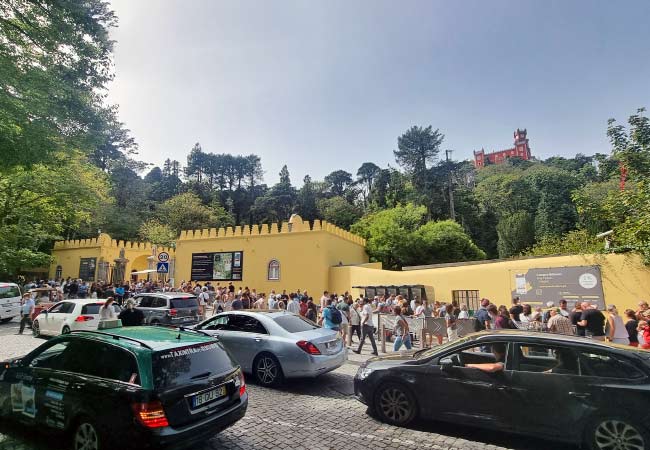 The confusion, queues and traffic outside the Pena Palace on a quiet Monday in October, in the low season. For your day trip in the peak season, you will want to start early in the day to avoid this
Cascais is still a great day trip
Cascais may be second to Sintra in terms of a day trip destination, but it should still be visited during your holiday. The town is a delightful mix of its fishing heritage, its 19th-century royal patronage and the excitement of modern tourism.
Cascais contains many excellent sights, but they are less impressive when compared to Sintra. Found within Cascais is the Cidadela de Cascais, the Boca do Inferno cliff formation, the fishing harbour, the Paula Rego art gallery, the Condes de Castro Guimarães villa, and the many pretty beaches. All of these sights are good, but they are not in the same league as the Pena Palace, Castelo dos Mouros or Palacio Nacional de Sintra.
Related articles: The best sights of Cascais – A day trip to Cascais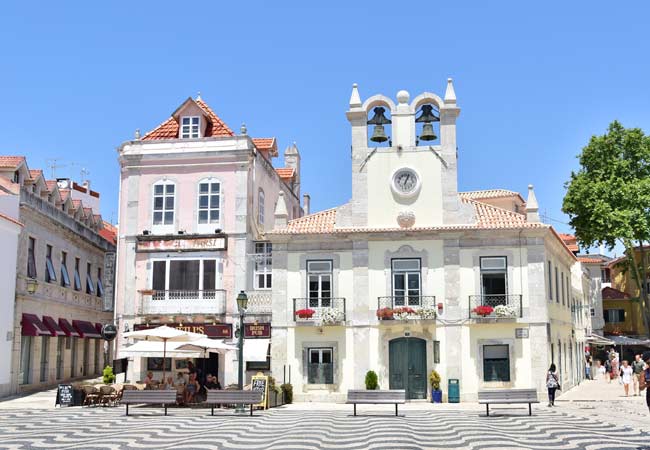 The historic centre of Cascais
Insight: The recommended order for day trips from Lisbon is:
1) Sintra (two days), 2) Cascais, 3) Obidos & Peniche, 4) Setubal, 5) Evora, 6) Mafra and Ericeira 7) Nazaré, 8) Sesimbra & Serra da Arrábida 9) Cristo Rei statue and the Costa da Caparica
Note: Nazaré and Evora involve long journeys and are best visited by car.
Why have a short stay in Sintra?
The number of excellent sights in Sintra means many tourists decide to spend a night in the town and dedicate two days to exploring Sintra.
This is a good idea, as sightseeing can be done outside of the hectic peak times (10:30-15:00). The Pena Palace is open from 09:00 and is quietest early in the morning, while the Quinta da Regaleira's gardens are peaceful and best explored after 15:30. During the peak hours you could go to the beautiful - but seldom visited - Palácio de Monserrate.
Insight: Spending a night in Sintra makes sense, but there's little point if you're already based in Lisbon. The trains connecting Lisbon to Sintra start early in the day (6am), and it is only a short journey (23km). The hassle of moving accommodation outweighs the benefits of being based in Sintra for one night.
The map below shows the location of hotels and rental rooms in Sintra. By altering the dates to your trip to Sintra, the map will display current prices and availability:
So why not have a holiday based in Sintra?
Sintra has good train connections to Lisbon, and there's a lot to see, so why not have a holiday here?
The reason not to have a holiday based in Sintra is due to its size and its focus on high-end tourists. The historic centre of Sintra is relatively small, so there is a limited number of hotels, restaurants and shops. Those which are here tend to cater for high-end tourists (and are more expensive), and there are few options for budget or mid-price hotels, food and shops.
It makes more sense to have a holiday of three or more days based in Lisbon and have day trips to Sintra. Lisbon is a wonderful city, with many accommodation options covering all budgets, along with a huge selection of restaurants and a vibrant nightlife.
Related articles: Lisbon guide
Cascais for a holiday
Cascais is a fantastic destination for a beach-focused holiday, which also provides easy day trips to Lisbon and Sintra.
A holiday based in a city may not appeal to all, especially for a summer or family holiday - and this is where Cascais excels. The town offers a conventional beach holiday destination, which is also very close to a major city - Lisbon. A morning could be spent sightseeing in Lisbon, and the afternoon could be spent relaxing on a beach. Few other holiday destinations can combine being close to such an amazing city, while also boasting glorious sandy beaches.
Insight: We rate Cascais as one of the best summer holiday destinations in Portugal, along with Lagos (Algarve), Tavira (east Algarve) and Vila Nova de Milfontes (Alentejo coastline)
Our most popular guides to Sintra